The association's first general assembly was held on May 25, 2021 in Tokyo's Shinagawa Ward with ten members attending, including one member online.
In advance of the assembly meeting, our chief director, Mr. Mitsuhiko INABA, gave an introductory speech. He looked back on how the association was established as a non-profit organization and our activities in the past year.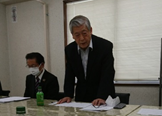 Mr. Hiroshi ISHIZUKI, chairman of the Japan Association of Community Based Civiy Safety Sciences, gave a congratulatory remark as our honored guest. During the speech, Mr. ISHIZUKI stressed the importance of promoting the use of footprints.